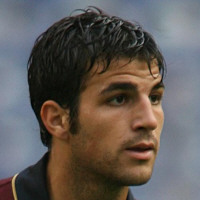 Football: Real Madrid eye Arsenal's Fabregas
Wonderkid Cesc Fabregas is in demand - from Real Madrid.
Tuesday October 16, 2007
MADRID (AFP) - Spain's Cesc Fabregas, who has shone with Arsenal in the Champions League, is a target for Real Madrid for the 2008-2009 season, the sports daily AS said Tuesday.
The paper carried comments by Real president Ramon Calderon on Saturday following Spain's 3-1 defeat of Denmark in a Euro 2008 qualifier.
"Cesc is one of the best," Calderon said.
AS said the Real manager Bernd Schuster is aware of Calderon's interest in the midfielder for next season.
Prior to his election by Real's board last year, Calderon promised to get Fabregas, Arjen Robben and Kaka for the club.
The Dutchman was bought from Chelsea last summer for 35 million euros (50 million dollars), but AC Milan has refused to part with its Brazilian star.
Fabregas, 20, who spent his early career at Barcelona, has already scored four goals in eight matches for Arsenal in the Premiership, and three goals in the Champions League.